Founded in November 1991, we are a self-help organisation with more than 750 members dedicated to the Prader-Willi Syndrome (PWS), whether they are parents of a child with PWS or actual sufferers themselves. Many renowned specialists are included among our consultants. We pride ourselves on already having achieved and initiated many things. However, a lot still lies ahead of us. Perhaps you have just learned that your child has Prader-Willi Syndrome and are now faced with a vast number of questions. It's a good thing you found us. We would be pleased to welcome you into our circle and support you with all our experience, knowledge and compassion.
The Prader-Willi Syndrome has many different faces. This website is here to introduce you to the range of syndromes and guide you through the lives of people with PWS as well as the lives of their families and carers. Our special children grow primarily through our understanding, strength and love.
If we also take advantage of medical and therapeutic support at an early stage and support our children with PWS on a lasting basis, we can provide them with crucial support so that they can create vital roots in their lives. Get in touch! Exchange ideas with other parents! Our office and or our regional groups are always at your side, offering you advice and assistance.
We would be happy to send you our brochures, which we have published on various PWS topics. In addition, we organise parent-child meetings, events and workshops, often in cooperation with renowned PWS experts.  You can also talk to like-minded people in our forum.
In accordance with our statutes, we have made it our task to inform the public about PWS and its treatment options. We support projects to improve therapeutic measures. In addition, we promote the construction and maintenance of residential groups and facilities for people with PWS. If you need advice in your search for a suitable place to stay, our housing working group will be happy to help.
If you would like to become a member in order to make use of the various possibilities for personal contact, you will find the appropriate forms in the download area. And of course donations are always welcome!
Best regards, Your Prader-Willi Syndrome Association Germany e.V.
02.10.2021
Nationale Tagung 2021 in Bonn
Diese Veranstaltung für Mitglieder und Angehörige bietet interdisziplinären Austausch rund um die seltene Erkrankung, das Prader-Willi-Syndrom.
Die Prader-Willi-Syndrom (PWS) Vereinigung Deutschland e.V. veranstaltet am 02. Oktober 2021 ihre Nationale Tagung in der LVR-LandesMuseum in Bonn. Ab 9 Uhr treffen sich Experten, Mitglieder und Angehörige zum offenen Austausch sowie zu Vorträgen und Workshops rund um das Thema PWS.
Während der Tagung werden natürlich auch die kleineren Gäste (bis 16 Jahre alt) mit und ohne das Prader-Willi-Syndrom nicht außer Acht gelassen – für sie werden wir ein angepasstes Begleitprogramm anbieten. Dieses Jahr entfallen leider die Workshops für jungere und ältere Erwachsene mit PWS. Wir bitten Sie darum, dies bei der Buchung Ihrer Tickets zu berücksichtigen und evtl. für den Tag andere Betreuungsmöglichgkeiten zu arrangieren. Wir bedanken uns für Ihr Verständnis!
Die Agenda der Tagung finden Sie unter Info-PDF weiter unten.
Die Nationale Tagung wird in diesem Jahr in einer Mischform von Präsenz- und Digitalveranstaltung stattfinden. Bitte achten Sie bei der Buchung der Tickets auf die Modalität der Teilnahme.
Um Ihre Tickets für die Nationale Tagung zu buchen, klicken Sie bitte:
Veranstaltungsort: LVR-LandesMuseum Bonn
Adresse: Colmantstr. 14-16
Stadt: 53115 Bonn
Zeit: Ganztägig
Tel: +49 (0) 228 20700
Kosten: 0,00€

Bemerkung(en):


23.10.2021
Workshop "Pubertät" – NEUER TERMIN
Beim Übergang von Kind zu Jugendlichen bzw. jungen Erwachsenen müssen viele Aspekte -gesundheitliche, soziale und psychische- berücksichtigt werden. Während dieses Workshops wird Dr. Soyer nach Interesse und Bedarf der Teilnehmer den bevorstehenden Herausforderungen dieses Lebensabschnittes nachgehen.
Dr. Soyer wird die Inhalte des Workshops den Interessen der Teilnehmen anpassen. Bitte teilen Sie uns per Mail nach Ihrer Buchung mit, welche Themen bzw. Frage Ihnen sehr am Herzen liegen.
Kosten:
Erwachsene Mitglieder € 25
Erwachsene nicht-Mitglieder € 50
Das Mittagessen ist in den Kosten inbegriffen.
Um diesen Workshop zu buchen, klicken Sie bitte hier.
Veranstaltungsort: Caritas-Pirkheimer-Haus
Adresse: Königstraße 64
Stadt: 90402 Nürnberg
Zeit: Ganztägig
Tel: 0911-23460
Kosten: 0,00€

Bemerkung(en): Falls Sie am Tag vorher anreisen möchten, bitte erwähnen Sie das bei Ihrer Buchung. Wir werden die Reservirung für Sie durchführen. Die Kosten für die zusätzliche Übernachtung bezahlen Sie selbst direkt beim Caritas-Pirkheimer-Haus. Die Übernachtung im Einzelzimmer mit Frühstück beträgt €67,50.


26.05.2022 - 29.05.2022
Familientreffen Regionalgruppe Nord – NEUER TERMIN 2022
Diese Veranstaltung wurde aufgrund der aktuellen Einschränkungen aufs Jahr 2022 verschoben. Bitte achten Sie auf den neuen Termin.
Das Familientreffen der Regionalgruppe Nord findet am Wochenende von Christi Himmelfahrt 2022 vom 26.5. bis zum 29.5. statt. Die Familien haben die Möglichkeit 3 Übernachtungen vom 26.5. bis zum 29.5. oder 2 Übernachtungen vom 27.5. bis zum 29.5. zu buchen.
Kosten für 3 Übernachtungen – 26.5.-29.5.2022
Erwachsene (ab 27 J.) € 128,50
Kinder und junge Erwachsene (bis 26 J.) € 115
Kosten für 2 Übernachtungen – 27.5.-29.5.2022
Erwachsene (ab 27 J.) € 85
Kinder und junge Erwachsene (bis 26 J.) € 76
Babys (bis 2 J.) kostenlos.
Alle Preise inkl. Verpflegung und Bettwäsche. Handtuchpaket einmalig 3,50 € pro Person.
Zuschlag für Zweibettbelegung 5 € pro Person und Übernachtung.
Ausstattung: Hochstuhl und Kinderbett (bitte mit anmelden) kostenlos vorhanden
Bemerkung: Bitte geben Sie bei der Buchung Ihrer Plätze bei Kommentare ein, mit welcher Familie Sie das Zimmer teilen möchten, falls Sie sich das wünschen.
Anreise: Informationen zur Anreise nach bad Zwischenahn finden Sie unter diesem Link.
Buchung: Um Ihre Plätze bei dem Familientreffen zu buchen, klicken Sie bitte hier.
Veranstaltungsort: Jugendherberge Bad Zwischenahn
Adresse: Schirrmannweg 14
Stadt: 26160 Bad Zwischenahn
Zeit: 12:00 pm - 5:00 pm
Tel:
Kosten: 0,00€

Bemerkung(en):


Causes, developments and phases of the WPS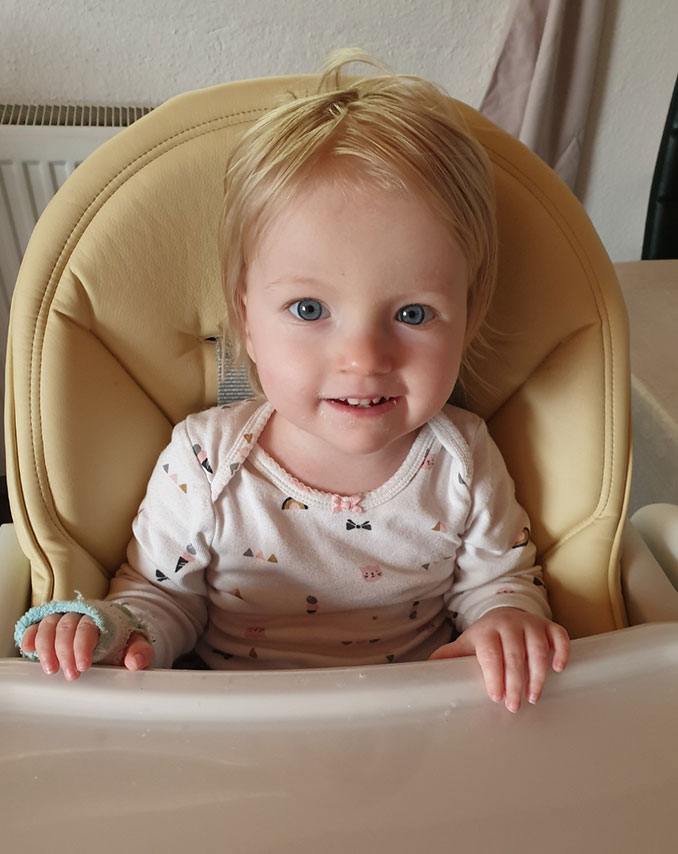 It makes progress. The quiet, motionless baby has become a charming toddler who becomes more mobile and usually learns how to crawl at the age of 15 – 18 months. With its gentle little voice it often draws attention to itself and tries to babble its first words …
Each human cell consists of a complete set of chromosomes consisting of 2 sex chromosomes, which determine the sex of a human being, and 22 pairs of chromosomes, each carrying the genetic information of the mother and father. All 46 chromosomes carry our genetic material …
It is not chronic physical hunger that makes people with PWS feel compelled to eat. Rather, hunger is in the mind and is essentially owed to two aspects:  People with PWS do not know what "to be full" means because their hypothalamus does not provide them with a feeling of fullness. In addition …
Going to school is an exciting event for children. Children with PWS also carry their school bag with great pride and in joyful expectation of the things that lie ahead of them. When choosing the right school, parents should focus on what their child is comfortable with and in which areas they need support …
Learn more about individual body characteristics