Founded in November 1991, we are a self-help organisation with more than 750 members dedicated to the Prader-Willi Syndrome (PWS), whether they are parents of a child with PWS or actual sufferers themselves. Many renowned specialists are included among our consultants. We pride ourselves on already having achieved and initiated many things. However, a lot still lies ahead of us. Perhaps you have just learned that your child has Prader-Willi Syndrome and are now faced with a vast number of questions. It's a good thing you found us. We would be pleased to welcome you into our circle and support you with all our experience, knowledge and compassion.
The Prader-Willi Syndrome has many different faces. This website is here to introduce you to the range of syndromes and guide you through the lives of people with PWS as well as the lives of their families and carers. Our special children grow primarily through our understanding, strength and love.
If we also take advantage of medical and therapeutic support at an early stage and support our children with PWS on a lasting basis, we can provide them with crucial support so that they can create vital roots in their lives. Get in touch! Exchange ideas with other parents! Our office and or our regional groups are always at your side, offering you advice and assistance.
We would be happy to send you our brochures, which we have published on various PWS topics. In addition, we organise parent-child meetings, events and workshops, often in cooperation with renowned PWS experts.  You can also talk to like-minded people in our forum.
In accordance with our statutes, we have made it our task to inform the public about PWS and its treatment options. We support projects to improve therapeutic measures. In addition, we promote the construction and maintenance of residential groups and facilities for people with PWS. If you need advice in your search for a suitable place to stay, our housing working group will be happy to help.
If you would like to become a member in order to make use of the various possibilities for personal contact, you will find the appropriate forms in the download area. And of course donations are always welcome!
Best regards, Your Prader-Willi Syndrome Association Germany e.V.
13.03.2022
Workshop "Rahmenbedingungen und Möglichkeiten für inklusive Wohnformen mit Menschen mit PWS"
Während dieses eintägigen Workshops soll gemeinsam ein Thesenpapier bezüglich der Grundlagen für mögliche inklusive Wohnformen für Menschen mit PWS aufgestellt werden. Der Workshop richtet sich an Eltern, Betreuer und andere Interessierte, welche beispielsweise eine Wohngruppe gründen wollen. Das Thesenpapier soll später Eltern und späterer Finanzierer mit den entsprechenden Informationen versorgen.
Der Workshop wird vom Verein Wohn:Sinn geleitet.
Teilnahmegebühr: 25€ Mitglieder, 50€ nicht Mitglieder
Für die Anmeldung klicken Sie bitte hier.
Veranstaltungsort: Jugendherberge Köln Rhiel
Adresse: An der Schanz 14
Stadt: 50735 Köln
Zeit: 9:00 am - 5:00 pm
Tel:
Kosten: 0,00€

Bemerkung(en):


06.05.2022 - 08.05.2022
Familientreffen Regionalgruppe Süd-West – Leutesdorf am Rhein
Das Familientreffen der Regionalgruppe Süd-West findet vom 6.5. bis zum 8.5.2022 statt. Die Familien haben die Möglichkeit das ganze Wochenende oder 1 Übernachtung am 6.5.2022 ODER am 7.5.2022 zu buchen. Die Preise beinhalten Übernachtung, Vollpension, Bettwäsche und Handtuch.
Die Kosten für das Tagesprogramm werden direkt von den Teilnehmern vor Ort bezahlt.
Kosten für 2 Übernachtungen – 6.5.-8.5.2022
Erwachsenen und Jugendlichen ab 14 J. € 80,00
Kinder ab 4 und bis 14 Jahre € 40,00
Kinder bis 3 Jahre kostenlos
Kosten für 1 Übernachtung – Entweder am 6.5.2022 ODER am 7.5.2022
Erwachsenen und Jugendlichen ab 14 J. € 40,00
Kinder ab 4 und bis 14 Jahre € 20,00
Kinder bis 3 Jahre kostenlos
Zuschlag für Zweibettbelegung € 6,80 pro Person und Übernachtung.
Ausstattung: Hochstuhl und Kinderbett (bitte mit anmelden) kostenlos vorhanden
Bemerkung: Bitte geben Sie bei der Buchung Ihrer Tickets bei Kommentare an, mit welcher Familie Sie das Zimmer teilen möchten, falls Sie sich das wünschen.
Anreise: Informationen zur Anreise zur DJH Kloster Leutesdorf finden Sie unter diesem Link.
Buchung: Um Ihre Plätze bei dem Familientreffen zu buchen, klicken Sie bitte hier. Falls Sie sich nur für einen Tag anmelden, achten Sie bitte darauf, den genauen Tag zu buchen.
Bitte lesen Sie hier die Bedingungen der Einverständniserklärung für Aufnahmen während des Familientreffens. Sie brauchen nicht das Formular zu drucken und auszufüllen. Ihre Zustimmung oder Ablehnung der Einwilligung erteilen Sie uns bei der Eingabe der Daten der TeilnehmerInnen.
Weitere Informationen finden Sie in der .pdf Datei.
Veranstaltungsort: DJH Kloster Leutesdorf
Adresse: Rheinstraße 25
Stadt: 56599 Leutesdorf am Rhein
Zeit: Ganztägig
Tel: +49 2631 95674100
Kosten: 0,00€

Bemerkung(en):


21.05.2022 - 22.05.2022
Workshop "Ich und die Liebe" – Mainz – 21.5.-22.5.2022
"Ich und die Liebe" – Ein Kurs für erwachsene Menschen mit PWS
Dieser Kurs richtet sich an erwachsene Menschen mit PWS und Lernschwierigkeiten. Die TeilnehmerInnen werden sich während des Kurses mit Grenzen und Gefühle, Körper-, Sexual- und Verhütungsaufklärung auseinandersetzen. Die Gewichtung der Themen und der Einbezug von individuellen Themen der Gruppe werden zu Beginn der Veranstaltung abgesprochen. Den Teilnehmenden werden Arbeitsunterlagen sowie Informationsmaterialien in Leichter Sprache zur Verfügung gestellt.
Es sind 6 Plätze für Frauen und 6 Plätze für Männer über 18 Jahre vorgesehen. Die Buchung der Teilnahme beinhaltet auch einen Platz für eine/n BetreuerIn. Dieser muss, sofern er benötigt wird, ebenfalls über ein Ticket gebucht werden. Dieses Ticket ist kostenlos. Die Fahrkosten werden bei nicht verwandten BetreuerInnen von der PWSVD erstattet:
Bahn-Fahrkarten in der 2° Klasse oder in der 1° Klasse mit Sparticket
Fahrkosten mit eigenem PKW mit € 0,30/km.
Die Personalkosten für die BetreuerInnen werden vom Verein nicht erstattet und müssen selbst bzw. aus dem persönlichen Budget oder aus der Verhinderungspflege bezahlt werden.
Der Kurs dauert 2 Tage (Samstag und Sonntag) von 9:00 bis 15:00 Uhr (6 Std. inkl. Pause) und findet im Hotel INNdependence in Mainz statt. Die Übernachtung am 21.5.2022 und die Verpflegung für TeilnehmerIn und BetreuerIn an beiden Tagen ist bei der Anmeldung inbegriffen und die Kosten dafür werden von der PWSVD übernommen. Falls die Übernachtung am Abend davor -am 20.5.2022- benötigt wird, erwähnen Sie dies bitte im Eingabefeld "Kommentare" im Anmeldeformular. Wir werden für Sie das/die Zimmer buchen. Diese Übernachtung ist nicht inbegriffen und muss selbt bezahlt werden.
Der Kurs wird von der Beratungsstelle Liebelle Mainz geleitet. Mehr Informationen finde Sie unter www.liebelle-mainz.de
Für Informationen zur Anreise ins Hotel INNdependence klicken Sie bitte hier.
Ihre Anmeldung erfolgt unter diesem Link. Die Teilnahme am Kurs und alle genannte Leistungen sind für die TeilnehmerInnen und ihre BetreuerInnen kostenlos.
Veranstaltungsort: Hotel INNdependence
Adresse: Gleiwitzer Str. 4
Stadt: 55131 Mainz
Zeit: 9:00 am - 3:00 pm
Tel:
Kosten: 0,00€

Bemerkung(en):


Causes, developments and phases of the WPS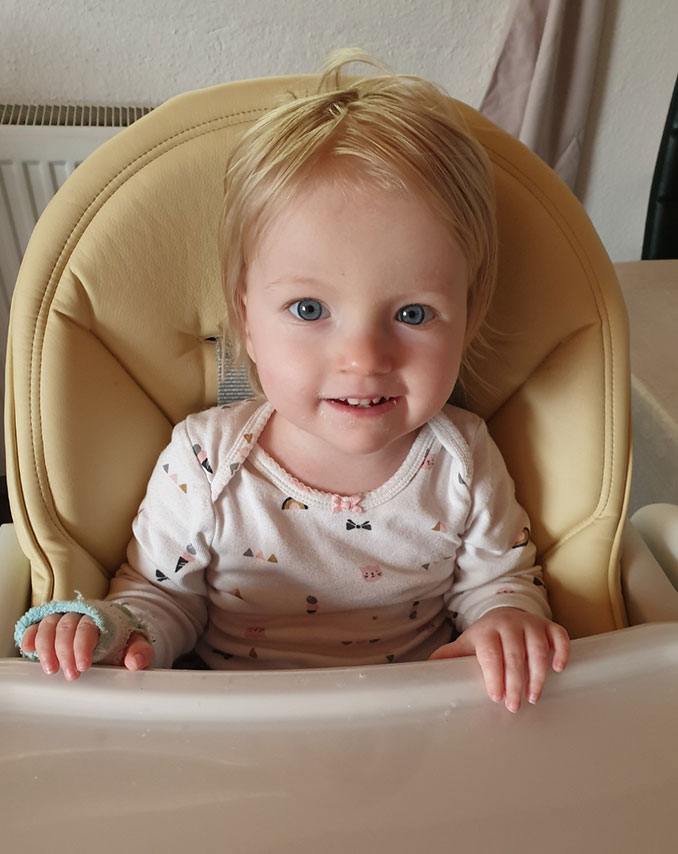 It makes progress. The quiet, motionless baby has become a charming toddler who becomes more mobile and usually learns how to crawl at the age of 15 – 18 months. With its gentle little voice it often draws attention to itself and tries to babble its first words …
Each human cell consists of a complete set of chromosomes consisting of 2 sex chromosomes, which determine the sex of a human being, and 22 pairs of chromosomes, each carrying the genetic information of the mother and father. All 46 chromosomes carry our genetic material …
It is not chronic physical hunger that makes people with PWS feel compelled to eat. Rather, hunger is in the mind and is essentially owed to two aspects:  People with PWS do not know what "to be full" means because their hypothalamus does not provide them with a feeling of fullness. In addition …
Going to school is an exciting event for children. Children with PWS also carry their school bag with great pride and in joyful expectation of the things that lie ahead of them. When choosing the right school, parents should focus on what their child is comfortable with and in which areas they need support …
Learn more about individual body characteristics